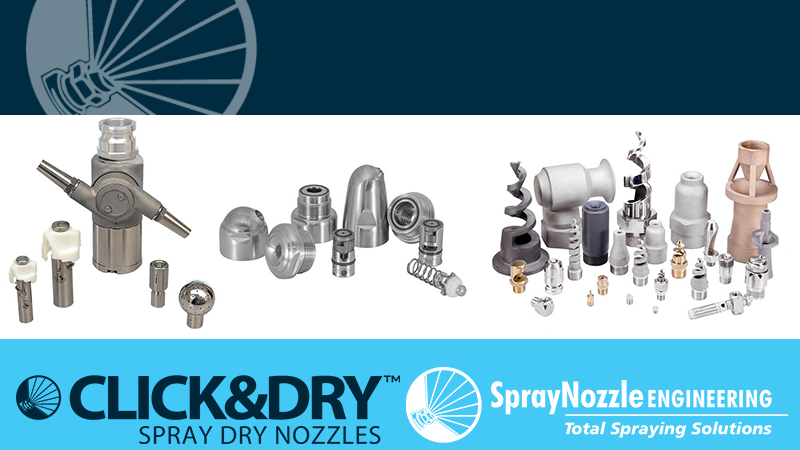 Servicing all industries with the latest spraying technology
Spray Nozzle Engineering is a leading designer, manufacturer and supplier of industrial spray technology and accessories. The group designs, manufactures and  distributes solutions for applications including: coating, spraying, cleaning, drying, dust control, humidification, spray and more.
Spray Nozzle Engineering offers total spraying solutions to industries such as: food and beverage, dairy, spray drying, wine, brewing, dry goods, pharmaceutical, fire protection, environmental control, pulp and paper, waste water, agriculture and packaging.
With offices in New Zealand and Australia, as well as distributors worldwide, the Spray Nozzle Engineering provides technical development and a customer support team that can assist with an engineered product solution.
Spray Nozzle Engineering has a focus in: safety, hygiene, cost reduction, time savings, innovative designs and ergonomic features, for the most difficult or precision spraying solution in spray dry, tank cleaning and washdown.
Spray Nozzle Engineering: Offering total spraying solutions
Since 1988, Spray Nozzle Engineering has been manufacturing and supplying nozzles and spraying solutions for: drying, blowing, sorting, ejecting, coating, humidifying, mixing, cleaning, cooling, washing, sanitising, foaming and lubricating; as well as, unique washdown systems incorporating safer hose reels for safer hose handling solutions.
The group has engineered patented products and represent world technology leaders as exclusive partners in fluid transfer and distribution, safer compressed air nozzle, blow down applications, and fluid atomisation technology while saving water, energy, and costs whilst increasing safety and productivity.
Find out about our In-House Engineering Design, our Associations and our Suppliers and Agency Lines
Visit our partner website with our agency lines: spraynozzle.co.nz
Spray Nozzle Engineering is a world leader in patented spraying solutions
Solutions that we offer:
Washdown and Foam Application
Pasteurisation and Cooling
Conveyor Lubrication
Blowing and Drying
Coating
Humidification
Abattoir nozzles
Nozzles for coating with liquids
Nozzles for applying flavourants

Chemical Injection
Deluge / Impact Washing
Tank cleaning rotating CIP nozzles
Dust Suppression
Washdown and Foam Application
Conveyor Lubrication
Nozzles for gluing

Dust Suppression nozzles
Humidification nozzles
Evaporative Disposal nozzles
Cooling and Quenching
Dust control spray
Mining nozzles

Open-Type Deluge Nozzles
Water Mist Systems
Marine Fire Suppression
Water Wall Systems
Misting unit
Fogging systems / Fog mist nozzles
Fire hose spray nozzles
Spray on fire curtain

Tank cleaning rotating CIP nozzles
Industrial wash tank nozzles
Stainless steel spray balls
Rotating spray bar
Spray ball nozzles
Oil and gas storage tanks nozzles
Tank cleaning for brew kettles
Tank cleaning for cooking kettles
Drilling mud tanks nozzles

Rotating spray bar
Spray equipment
Spray drying nozzles
Spray products for food processors
High pressure spray nozzles

Gas Scrubbing nozzles
Air Stripping and Spray Aeration
Toxic Gas Mitigation
Coating nozzles
Tank mixing nozzles
Pollution control nozzles
Flue gas desulphurisation
NOx scrubbing

Pressure washer nozzle
Industrial high pressure hand held water pistols
Pressure washer gun and lance
Washdown supplies
High pressure hose nozzle
Washdown valves
Steam water mixers

Compressed air blower
Cold air spray
Nozzle air blow
Air guns and air nozzles
Air knives
Silencers
Washdown valves
Steam water mixers

Foaming systems
Foam nozzles
Nozzle air blow
Pressure washer foamers
Wall mounted foamers
Portable foamers
Visit our Testimonial page and see what our clients are saying about us.