Safe direct-drive technology and Flat Wind level wind system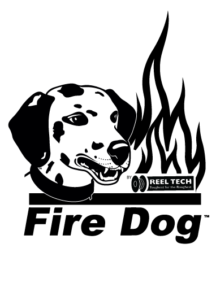 The Fire Dog™ is a new innovation in direct-drive safety hose reels, designed for reduced risk of injury and fatigue during operation. The hose reel features an integrated mechanical clutch that minimises hose drag, free wheel mode for easy payout, emergency override mode for manual crank, and Unique Action Brake Pat. Pend. manual braking mechanism. It comes in ultra-narrow to ultra-wide widths to fit different space requirements and optional lightweight aluminium construction.
Reel Tech engineering team has also patented the Flat Winder™ level-wind system, a world first in hose and cable layering, allowing perfect single user operation and hose storage, without the need to touch or guide heavy hoses during rewind. When optioned with Reel Tech remote control rewind system, with long range and channel signal technology, single person operation is now safe, reliable and cost effective. This advanced technology aids easy payout, requires less personnel for hose storage duties, and delivers more reliable and consistent layering. Flat Winder™ is the ideal choice to combine with the robustness of a FireDog™ or Hannay Fire and Rescue reel for the perfect hose reel system solution.
Equipped with a quick change hub, heavy-duty modular form, low cost motor, safer rewind speed and optional remote control operation, the unequalled Fire Dog™ is at the forefront of fire-fighting hose reel technology. Where quick response times are critical, Fire Dog™ is your best friend.
Heavy duty and modular
Its heavy duty, modular construction can be used on all indoor, underground, outdoor and mobile applications. The Fire Dog™ can be Shipped Complete or in Knock-Down Form for easy assembly, which saves on freight.
Low cost motor drive
Choose a low cost motor drive to suit you. Our low cost motor utilises the torque advantages and safer rewind speed of the standard gearbox include air, hydraulic, electric 12/24VDC and manual crank.
Quick hub size change
Change hub sizes in minutes. A stainless steel swivel can be easily added upon request making the entire fluid path stainless steel to suit aggressive or corrosive fluids.
Sizes to suit all works
The Fire Dog™ Reel Direct Drive series is now available in the widest range of hose capacity to suit various capacity and space requirements. The new expanded range is now available to suit most common hose sizes from 1/2" to 2" I.D. New Ultra-Narrow design is now available for smaller capacity or limited space requirements such as in workshops, service trucks and mine processes.
Also available is the Ultra-Wide design. The Ultra-Wide Design is the widest Direct Drive 'Safety Reel' on the market.